Analisis Kandungan Logam Berat Kadmium (Cd) pada Keong
Hilda Karim
(1*)
,
(1)&nbspState University Of Makassar
(*) Corresponding Author
DOI:
https://doi.org/10.35580/bionature.v10i1.248
Abstract
This research aimed at understanding the content of cadmium in T. sulcata snail which was taken from Bua beach, Luwu. This is a descriptive research where the variable discussed is the cadmium content in snail. Samples were taken from three stations in Luwu. 25 snails were taken from each station. Snail's meats used as samples were destroyed. Then the cadmium content was analyzed by using SSA at South Sulawesi Agricultural Technology Research Boaicl in Maros. The result of research shower that the highest Cd content was found in Station III with 0,487 mg/Kg, then station II with 0,235 mg/Kg and station I with 0,197 mg/Kg. snail, which can be found at can be prover that T. sulcata around 0,197 ppm – 0,487 ppm cadmium (Cd) content. It is still in normal degree or based on what FAO and WHO recommend that is less than 0,95 mg/Kg
Keywords: snail Terebralia sulcata,cadmium(Cd)
Article Metrics
Abstract view : 403 times |
Refbacks
There are currently no refbacks.
Copyright (c)
Published By:

Jurusan Biologi 
Fakultas Matematika dan Ilmu Pengetahuan Alam
Universitas Negeri Makasar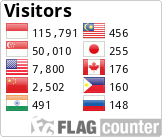 Contact Person
Hartono
Biology Department, Mathematics and Science Faculty
Universitas Negeri Makassar
Jl. Daeng Tata Raya, Parang Tambung, 90224 Makassar, Indonesia
Hp: +62812 8911 4162
email: bionature@unm.ac.id 
Website: https://ojs.unm.ac.id/bionature    

Journal Bionature is licensed under a Creative Commons Attribution- NonCommercial-ShareAlike 4.0 International License.